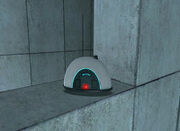 Portal: Still Alive is an Xbox 360 Live Arcade exclusive edition of Portal released on October 22, 2008. It features the original game with new challenges and new achievements. The additional content was modified from and based on levels from the Portal: The Flash Version MapPack created by We Create Stuff and contains no additional story-related levels. There was a slight change in the campaign, which included avoiding being crushed whilst going through a series of engines.
Achievements
Edit
The game has 12 achievements worth 200 gamerscore.
Achievement Icon
Achievement Name
Description
The Achievements

Go for the Gold
Win a gold medal on a challenge map.

Out of the Blue
Once you have control of both portals, only enter the orange portal.

Rat's Tale
Find all the Ratman dens.

Is Anyone There?
Complete the game without ever taking a bullet.

Saw That One Coming
Cause a rocket sentry to destroy its own rocket when the rocket has been redirected back towards it.

The Camera Adds 10 Pounds
Knock a turret over with a security camera.

Like a Rat
Trap yourself in a test chamber so that GLaDOS has to help you continue.

Tests Like Chicken
Find the chicken's test results.

Cupcake
Beat 5 advanced chambers.

Fruitcake
Beat 10 advanced chambers.

Vanilla Crazy Cake
Beat all advanced chambers.
Community content is available under
CC-BY-SA
unless otherwise noted.