The Aperture Science Weighted Storage Cube, or Aperture Science Weighted Companion Cube, is a testing element used in several Test Chambers of the Aperture Science Enrichment Center. The Companion Cube and Storage Cube are the same thing except the Companion Cube has a heart on it's sides.
Description
Edit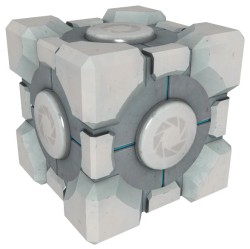 The Weighted Storage Cube is a device used for solving puzzles in the various Test Chambers found throughout the Aperture Laboratories. In almost all cases, the Cube is to be placed on a 1500 Megawatt Aperture Science Heavy Duty

Super-Colliding Super Button to allow the player to advance. It can be picked up by using the "use" key and can also be taken through portals. Weighted Storage Cubes appear either via a Aperture Science Vital Apparatus Vent or are already in a test chamber. The Weighted Storage Cube can also be used as a makeshift weapon against an Aperture Science Sentry Gun by dropping it on the Sentry Gun from a Portal.
The Companion Cube
Edit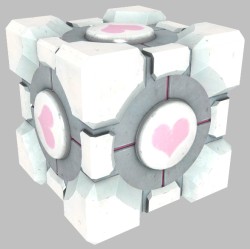 A special type of Storage Cube, the Weighted Companion Cube, appears in Test Chamber 17. It is identical to the regular Weighted Storage Cube, except that it has a heart where the Aperture Science logo would be. At the end of the test chamber, the player is forced to put it into an Aperture Science Emergency Intelligence Incinerator. Dropping a

Weighted Storage Cube (spawned by the console) into the incinerator at the end of Test Chamber 17 will give you the same result as the Companion Cube. This is probably because the Companion Cube is just a reskinned Storage Cube.